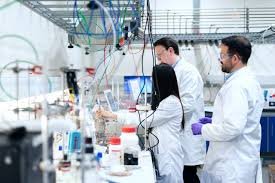 Career and Courses available in Chemical Engineering | Scope in Chemical Engineering | wide scope in chemical engineering
Scope in Chemical Engineering
Chemical engineering is a multi-disciplinary branch of engineering that combines natural and experimental sciences (such as chemistry and physics), along with life sciences (such as biology, microbiology and biochemistry) plus mathematics and economics to design, develop, produce, transform, transport, operate and manage the industrial processes that turn raw materials into valuable products. Chemical Engineering is the field that deals with the designing and maintenance of chemical plants along with the development of chemical processes to convert raw material into useful products.
For more Latest news:- click here
The person who involves themselves in chemical engineering is known as Chemical Engineers. Some chemical engineers, known as Process Engineers, who are specialize in a particular process, such as oxidation . Chemical engineers apply the principles of chemistry, biology, physics, and math to solve problems that involve the production or use of chemicals, fuel, drugs, food, and many other products. They design processes and equipment for large-scale manufacturing, plan and test production methods and byproducts treatment, and direct facility operations.
Chemical Engineering is one of the engineering branches that have a lot of scope in India. Government, as well as private organisations in India, hire chemical engineers. There is a lot more to this field other than chemistry.
join our Facebook Page for more latest news and Job Updates please click here
Various courses available in chemical engineering
DIPLOMA COURSES :
Diploma in Chemical Engineering (3 years)
UNDER-GRADUATE COURSES :
B.E in Chemical Engineering
B.Tech in Chemical Engineering
POST GRADUATE COURSES:
M.Tech in Chemical Engineering
DOCTORAL DEGREE:
Phd. in Chemical Engineering
OUR RECENT POSTS
Eligibility criteria
Diploma Courses:
There are few colleges in India that also offer Diploma in Chemical Engineering and you can enroll for these programmes after completing your class 10.
Admission is mostly done on the basis of state polytechnic entrance exams.
Undergraduate Courses:
Like most engineering programmes, you will be eligible to apply for B.Tech in Chemical Engineering after completing 10+2.
Most of the engineering colleges offering this programme will conduct admission on the basis of entrance exams.
Different universities may conduct their own entrance exams such as VITEEE conducted by VIT University and LPU NEST conducted by Lovely Professional University.
However, admission to IITs is done on the basis of JEE Advanced and to NITs is done on the basis of JEE Mains.
Post-graduate Course:
In order to apply for post-graduation courses of Chemical Engineering, you will have to secure at least 60% marks in graduation.
Also, admission to all M.Tech courses in the field of Chemical Engineering is done on the basis of GATE entrance test.
Skills required
Duties of chemical engineers
Apply knowledge of Chemistry, Biology and Physics to the industrial production and use of chemicals and related products.
Carry out research to develop new and better manufacturing processes.
Design equipment.
Plan, manage, and troubleshoot the running of an installation.
Conduct tests to monitor the efficiency and safety of the production processes.
Develop safety standards for workers in the industry.
Evaluate the installed equipment to follow safety regulations and environmental guidelines.
Project costs of production to the management.
Develop methods to carry out complex chemical processes.
Chemical Engineers work in the energy, food, clothing, petroleum, healthcare, biotechnology etc. sectors
Various industry offering jobs to chemical engineers
Chemicals manufacturing industries
Petroleum industry
Food industry
Electronics industry
Rubber industry
Textiles industry
Paper & Pulp industry
Aerospace industry
Plastic industry
Cement industry
Top companies recruiting chemical engineers
Indian Oil Corporation
Reliance Industries Ltd.
Johnson Matthey
Essar Oil Limited
Oil and Natural Gas Corporation Limited
GlaxoSmithKline
Gujarat Alkalies & Chemicals Ltd
Job profiles
Chemical Engineering is one of the established branches in India and there are various government as well as private organisations that hire chemical engineers. Although not as popular as other engineering branches, Chemical Engineering certainly offers some bright career opportunities.
Chemical Engineers– Chemical Engineers work involves designing and developing chemical processes. Solving, production and use of fuels, drugs, and other products.
Development Chemical Engineer– Work involves designing, developing and implementing industrial processes involving chemical reactions. Applying the processes for development of new products.
Chemical Material Scientists -The chemical and material scientists study substances at the atomic and molecular levels to analyse the ways in which the substance interact with one another. They use the knowledge to develop new products and to test the quality of the manufactured goods.
Nuclear Engineers -Nuclear engineers research and develop the processes, instruments and systems used to derive the benefits from nuclear energy and radiation. Like for example the equipment used in medical diagnosis and treatment.
Materials Engineer– Study the structure of atoms, design and develop new methods for their application in mechanical and chemical properties.
Mining Engineer– Ensure safety in the extraction of gases, compounds, and elements from down the earth. Accessing the potential of the extracts for commercial benefits.
Top colleges
For latest news and Job updates you can Join us on Whatsapp :- click here
Also for latest news and Job updates you can Join us on Telegram also :- Click Here
For More latest News and Job Updates Please Click here