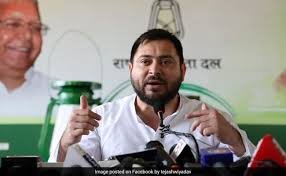 Tejashwi Yadav may become the youngest CM of a state in India | Bihar elections 2020 updates | Tejashwi Yadav Turns 31
Bihar elections 2020 updates
Lalu Yadav's youngest son Tejashwi Yadav has turned 31 years old today. Rashtriya Janata Dal (RJD) leader Tejashwi Yadav may become the youngest chief minister of a state in India. As we know Bihar Elections 2020was held in three phases . And this is the first election in three decades that was held without RJD chief Lalu Prasad, who is languishing in a Ranchi jail following his conviction in multiple fodder scam cases, and Lok Janshakti Party (LJP) chief Ram Vilas Paswan, who died in October following a brief illness.
Now the results of Bihar elections 2020 will decide whether the voters of Bihar will hand over the state's baton to the young generation represented by Tejashwi Yadav or to the LJP's Chirag Paswan.
For more Latest news:- click here
Tejashwi Yadav will be the youngest CM state if he wins: 
If the grand alliance wrests power and polls prediction turns validated  in the Bihar states, then 31-year-old Tejashwi Yadav would become the youngest chief minister of a state in India. Tejashvi Yadav was born on November 9, 1989 and if he dethrones Nitish Kumar out of the CM Seat then it will be counted as one of the great achievement for the Tejashvi Yadav. As per reports, M.O.H Farook, who became union territory Puducherry's CM at the age of 29 has been  the youngest CM till now. However, if Yadav gets majority he will be the youngest CM of an Indian state.
join our Facebook Page for more latest news and Job Updates please click here
The third and last phase of voting concluded on Saturday at 6 p.m. In the Bihar Elections 2020 the first phase of voting took place on October 28, 2020 and the second phase on November 3, 2020 . Now Counting of votes for the 243-member House will take place on November 10, 2020. The Election Commission of India (ECI) has made elaborate arrangements for counting of votes.
OUR RECENT POSTS
Counting of the votes
Election Commission of India has set up 55 counting centres in all the 38 districts of the state, which had voted in three phases. Three counting centres each have been set up in four districts of East Champaran (which has 12 assembly constituencies), Gaya (10 seats), Siwan (8 constituencies) and Begusarai (7 constituencies). A three-layer security has been provided at counting centres.
A total of 106,524 EVMs are in different strong rooms across 55 centres in the state which will decide the fate of 3,558 candidates, including 370 women and a transgender. The counting process, scheduled tol start at 8am on November 10, will be videographed, officials said, adding postal ballots would be counted first.
According the exit polls results of Bihar Elections 2020 Tejashvi Yadav is the chief ministerial candidate of the Mahagathbandhan or grand alliance of RJD, Congress and Left parties in Bihar where assembly elections concluded on November 7. If exit poll results are to be believed, the grand alliance is likely to form the next government in Bihar. 
Thousands of political leaders will be eagerly watching the counting of votes on Tuesday for the three-phase Bihar assembly elections, which concluded on November 7, 2020 with 57.05 per cent voter turnout. Leaders of the National Democratic Alliance (NDA), which consists of the Bharatiya Janata Party (BJP), the Janata Dal (United) or (JDU), Hindustani Awam Morcha (Secular) and Vikassheel Insaan Party (VIP), are facing a tough contest from candidates from the opposition coalition of the Mahagathbandhan or Grand Alliance. The Mahagathbandhan comprises the Rashtriya Janata Dal (RJD), the Congress and Left parties.
For latest news and Job updates you can Join us on Whatsapp :- click here
Also for latest news and Job updates you can Join us on Telegram also :- Click Here
For More latest News and Job Updates Please Click here