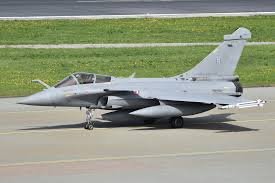 IAF formally inducts Rafale in its fleet at Ambala airbase | 5 Rafale jets in its fleet
INTRODUCTION- 5 Rafale jets in its fleet
Indian Air Force formally inducted 5 Rafale jets in its fleet at Ambala airbase.There is ceremony at Ambala airbase .
On the occasion, Defence Minister Rajnath Singh and Minister of the Armed Forces of France Florence Parly are present. They witnesse the traditional 'Sarva Dharma Puja' at the Rafale induction ceremony, at Ambala airbase on Thursday.
Also The 'Sarva Dharma Puja' involved recitation of hymns, ayats, and mantras by priests of various religions.
watch video here: #WATCH Indian Air Force's 'Sarang Aerobatic Team' performs at the Rafale induction ceremony in Ambala
IAF RECEIVES RAFALE BOOST- 5 Rafale jets in its fleet
This puja was followed by air display of Rafale fighter aircraft flanked by SU-30 and Jaguar aircraft in an arrow formation.
Chief of Defence Staff General Bipin Rawat, Chief of the Air Staff Air Chief Marshal RKS Bhadauria, among other senior officers of the Ministry of Defence and Armed Forces, were also present to mark a very important milestone in the history of the IAF.
The first five Rafale aircraft will be part of 17 Squadron, the "Golden Arrows".
The aircraft had arrived at Air Force Station, Ambala from France on July 29, 2020.
For more Latest news:- Click Here
The first five Indian Air Force Rafale aircraft had arrived at the Ambala airbase from France on July 27. The formal induction ceremony however, deferred. So to ensure that the pilots and crew put their heads down and become integrated with the overall IAF operations at the earliest. The second batch of aircraft's to arrive in India by the end of November this year.
The IAF would be acquiring a total of 36 Rafale jets from France. All the aircraft's inducted into IAF by the end of 2021. Rafale aircrafts are India's first major acquisition of fighter aircrafts for IAF after Sukhoi.
The new fleet will be part of the 17 Squadron of the IAF which was resurrected on September 10 last year.
latest Government please updates Click Here
For General News updates please Click Here
So To join our Facebook Page for more latest news and Job Updates please click here
The squadron originally raised at Air Force Station, Ambala on Oct 1 1951. The 17 Squadron has many firsts to its credit.
Our Recent Post